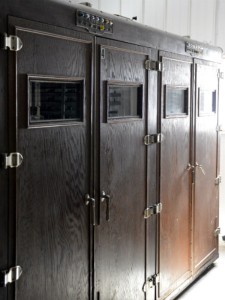 In 2009, Kadejan converted the old processing plant into a Hatchery, which supplies all the pullets for our growers. The Hatchery is truly a family endeavor, with all hands pitching in to ensure the quality in handling and delivery of our chickens to our local growers. The Hatchery has enabled us to shorten the delivery distance for our pullets, thus reducing stress for the chicks, and adds another touch to what makes our chicken so unique.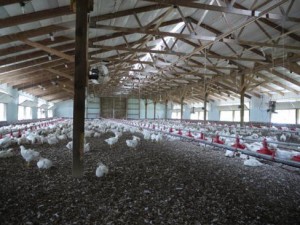 Kadejan chickens are allowed to free roam in a spacious and clean environment. We believe in excellent sanitary practices that help our chickens to grow naturally on high quality feed and fresh well water. To help our  birds stay healthy we use  organic oregano instead of vaccines and antibiotics. 
Our family and friend growers have been with us since the beginning they ensure that the chickens are treated and handled humanely from chick to chicken.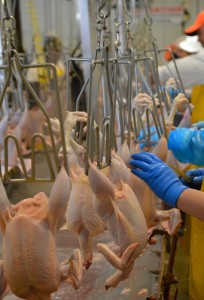 Chicken is processed twice a week at our USDA-certified plant. We take time to ensure that our chicken is processed humanely and correctly in a clean environment. Since the beginning, we have chosen to use highly trained employees rather than extensively using automated systems. This strategy forces us to use a slower processing rate of 8 birds per minute, which allows for more thorough inspections and more cleanly eviscerated chicken. The result is a much healthier, better-tasting chicken for your table.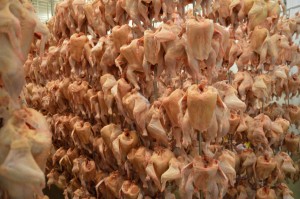 Kadejan has been proudly air chilling our chicken since 1993. This method of chilling – compared to the more common U.S. industry practice of water/chemical immersion – makes our chicken much easier to cook with, much tastier to eat, and much healthier for you. Not to mention, you don't pay for extra water weight when you buy our chicken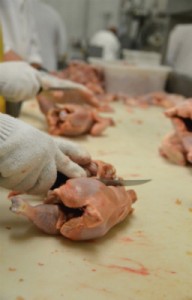 When you step into our cut up room you might hear the mechanical noises of a packaging machine and the occasional whirring of a grinder and band saw cutting up eight-piece. For the most part, however, our chickens are cut by hand. As with our evisceration process, we prefer a good sharp knife and a trained employee over the latest gizmos. Our chickens are cut, skinned, deboned and trayed by hand, and delivered fresh twice a week to your favorite restaurants, delis and grocers. Our employees' care and pride in the product is the final touch that makes our chicken so unique.